RUN WITH THE VISION
For God so loved the world, that He gave His only begotten Son, that whosoever believeth in Him should not perish, but have everlasting life" ( St. John 3:16)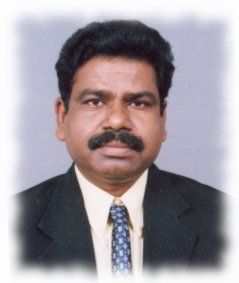 C. PETER CHANDRAN, a disciple of the LORD Jesus Christ and the man of God started the Living God Ministries in the year 1993 according to the instruction of the Lord based upon Hebrews 9:14 to minister unto the Living God through serving the needs of the people. Our vision is God and people. We believe God is good, therefore we must praise HIM;for His mercy endures forever.
1. CHURCH PLANTING in cities and villages of Tamilnadu-India and all over the world. We are also constructing church buildings.
2. BIBLE COLLEGE: The Prince of Life Bible College offers correspondence courses in Bible studies leading to the degrees of B.Min., and M.Min., and training men and women who are called by God in the great harvest of souls.

Theology

FOUNDATIONAL BIBLE STUDY COURSE

THE BOOK OF JOB - 18th BOOK OF THE HOLY BIBLE

JOHN's GOSPEL DISTRIBUTION

PATEROLOGY



260 Meditations in the New Testament

New Year God's Message 2017 GOOD AND PERFECT GIFT ,Jas.1:17

M.A. in Bible Studies through correspondence! 3 semesters

THE LIVING WORD OF GOD THEOLOGICAL COLLEGE Chennai T.N.


FIRST SEMESTER COURSE SYLLABUS

THE NEW TESTAMENT SURVEY

Civil and Ocean Engineering Technical Papers

Dr. C.Peter Chandran - Ph.D. Thesis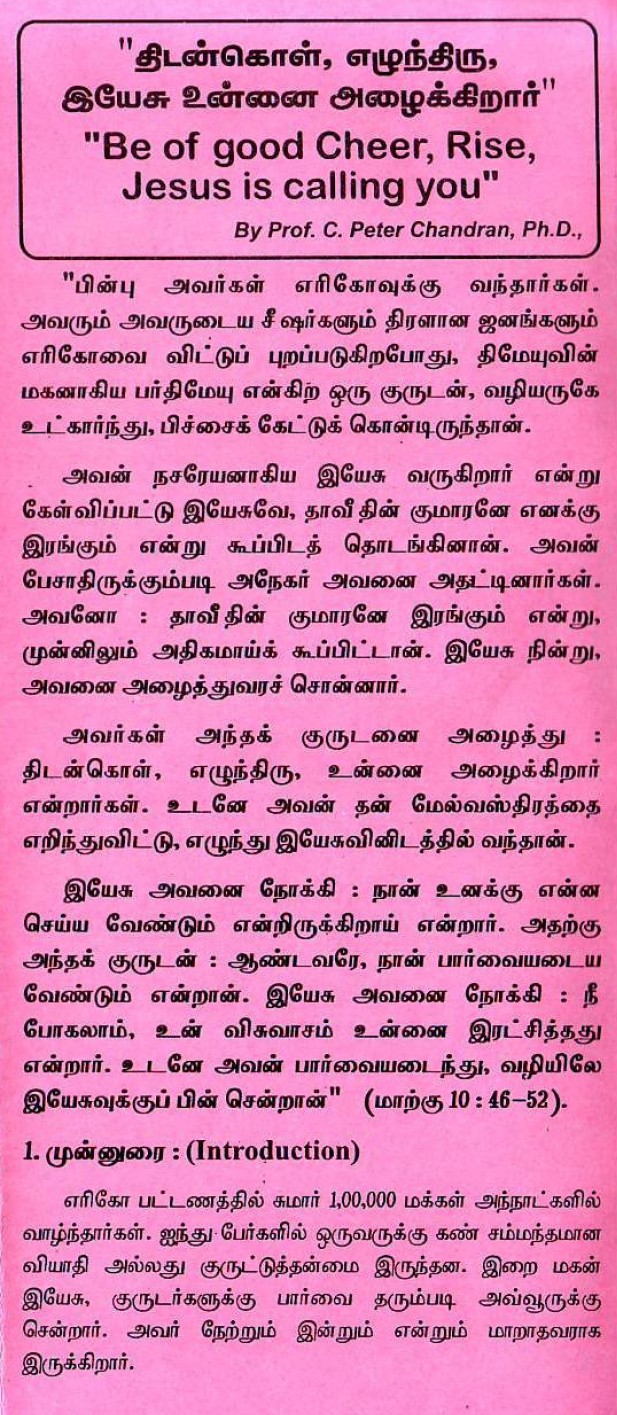 See More...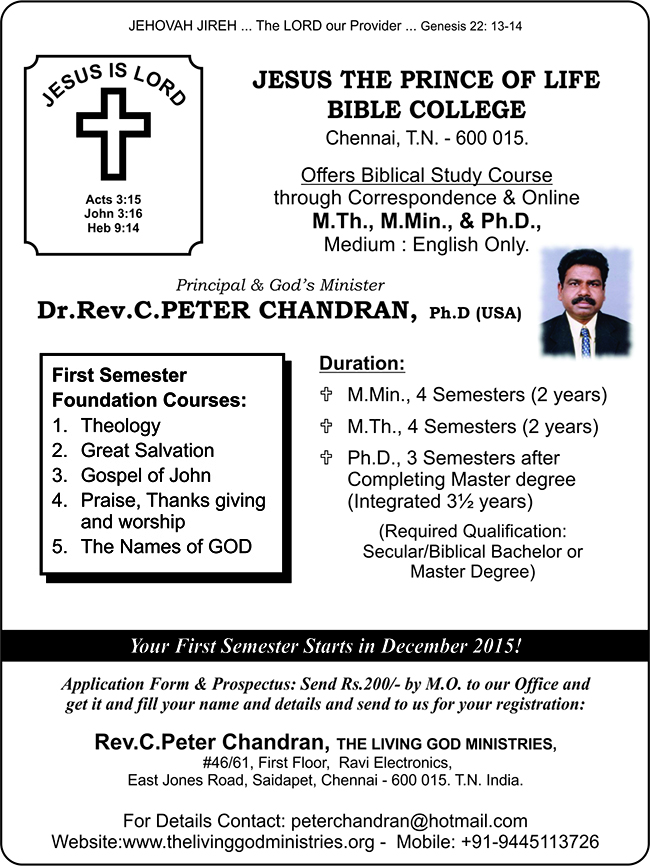 " Blessed is the man...his delight is in the law of the LORD; and in his law doth he meditate day and night... and whatsoever he doeth shall prosper ' ( Psalm 1:1-3).

LIFE BIBLE SCHOOL
offers BIBLE STUDY CORRESPONDENCE COURSE
In

7

Important subjects.


TOTAL 55 LESSONS
| | | |
| --- | --- | --- |
| NO. | SUBJECT NAME | NO. OF LESSONS |
| 1. | The Way | 1 |
| 2. | God has spoken | 8 |
| 3. | Good News | 9 |
| 4. | Knowing Jesus | 7 |
| 5. | Born of Water and Spirit | 9 |
| 6. | The Family of God | 8 |
| 7. | Life of Love | 13 |
| | TOTAL LESSONS | 55 |
Total 7 subjects, 55 lessons. Each lesson has 5 to 10 A4 pages study material and 2 or 3 pages worksheet. You can study one or two lessons per week. We shall send you study materials and work sheets periodically every week. Maintain all study materials in a file, And send back the filled in worksheets for correction and grades. These Studies shall be A blessing for your life!
ENROLL NOW with your personal details ( your mailing address, email, phone no. etc…)
For further details , please contact:

REV. C. PETER CHANDRAN
LIFE BIBLE SCHOOL
No. 46/ 61, First Floor, Ravi Neon Lights,
East Jones Road, Saidapet,
Chennai City – 600 015. INDIA.
EMAIL:

peterchandran@hotmail.com


Prayer line: +91 94451 13726
VISIT US @ www.thelivinggodministries.org
3. EVANGELISM: This ministry reaches the people by preaching the Gospel of Jesus Christ through gospel meetings, conventions and crusades.
4. LITERATURE MINISTRY: Spiritual books, Bible study materials, News letters, Gospel tracts.
5. MERCY MINISTRY & SOCIAL SERVICES:
We help the poor, widows and orphans. We also supply pure drinking water(potable) to the village poor people by digging deep bore wells.
2010 NEW YEAR message!:
HELLO DEAR FRIEND,
Greetings from THE LIVING GOD MINISTRIES Chennai India.2010 will be a year of prosperity and health for believers in Christ Jesus. God has revealed in my spirit that many people will come to the saving knowledge of Jesus. Many church buildings will be built. In your personal life, you will be established in the grace of God. God will revive and restore you to fulfill His will in your life through His grace. Thr spiritual kingdom is in you. You will do wonders by the faith in Jesus.
The Living God Ministries is determined to do the following activities in the year 2010!
church buuilding construction in 10 rural areas of India and 2 mega churches in the cities of india.
Gospel meetings in 12 places, each 2 or 3 days duration,
100 Students will be trained in our bible college THE PRINCE OF LIFE BIBLE COLLEGE
Literature ministry, TV programmes, monthly magazine
social work : helping widows and orphans and poor people
Reaching college students with the gospel of salvation
Conducting FAITH & PROSPERITY SEMINORS in chennai and other cities
GOSPEL PARTNERS:
Gospel Partners are the supporters and backbone of every phase of THE LIVING GOD MINISTRIES. They help this ministry to build churches, bible colleges, support missionaries and gospel via Television to the nations.
THE LIVING GOD MINISTRIES prays daily for our partners and we ask our partners to pray for us. If your you would like to join our team to bring the gospel to the dying world, please sign up to be a Gospel partner today.
With your faithful support ( atleast $100/- or Rs.1000/- ) I will be able to bring the life changing power of the gospel the dying world.
PROMISE FOR THE YEAR 2013

PROMISE: ( Genesis 1;27,28 ) and ( Joshua 1:8 ) and ( Acts Of The Apostles 1:8 ).

"So God created man in his own image, in the image of God created he him; male and female created he them." Mt. 19.4 · Mk. 10.6

"And God blessed them, Gen. 5.1, 2 and God said unto them, Be fruitful, and multiply, and replenish the earth, and subdue it: and have dominion over the fish of the sea, and over the fowl of the air, and over every living thing that moveth upon the earth." Genesis 1;27,28

"This book of the law shall not depart out of thy mouth; but thou shalt meditate therein day and night, that thou mayest observe to do according to all that is written therein: for then thou shalt make thy way prosperous, and then thou shalt have good success." Joshua 1:8 (KJV)

"But ye shall receive power, after that the Holy Ghost is come upon you: and ye shall be witnesses unto me both in Jerusalem, and in all Judaea, and in Samaria, and unto the uttermost part of the earth." Acts Of The Apostles 1:8 (KJV)
OUR MAILING ADDRESS:
PAS. C.PETER CHANDRAN , THE LIVING GOD MINISTRIES,
46/61. FIRST FLOOR, RAVI ELECTRONICS, EAST JONES ROAD,SAIDAPET,CHENNAI
600015 INDIA. WEB: www.thelivinggodministries.org prayerline : 9445113726
MAKE Your NEW YEAR GIFT to the ministries in the name of " THE LIVING GOD
MINISTRIES TRUST " and send it, to the mailing address. Thank you Jesus.
SURELY GOODNESS AND MERCY SHALL FOLLWOW YOU ALL THE DAYS OF YOUR LIFE.
GOD IS GOOD, PRIASE HIM, FOR HIS MERCY ENDURES FOREVER! WISH YOU A
PROPEROUS AND HAPPY AND SUCCESSFUL NEW YEAR 2010!
REV. C. PETER CHANDRAN